The 2nd type is the Blue (electric) ball. Looks like the Yellow Ball, it has a bit of effects of electric power of the ball. It is worth a massive x1,000 footballs! And this ball takes 20 - 25 taps to release the ball. For a massive x1,000 value and it's powerful! For PC version, it will take 40 - 50 taps to release the ball! And this ball is the most powerful ball in the game, and this ball is made of electric and powerful. The player will get more footballs if is released, but it will be a tricky situation to the PC version. And defeat this Blue Football for x1,000 goals! The More Clicks tactic and the More Clicks powerup will multiple the goals of the Blue Ball.
Has a 2% chance to appear.
In a couple of 2016 updates, the ball didn't get more footballs. It only got x5 football. It was fixed in 2017 updates, now the ball now maximise profits.
And it can only appear up to 3 footballs, but it's the max. And the ball can get too much footballs.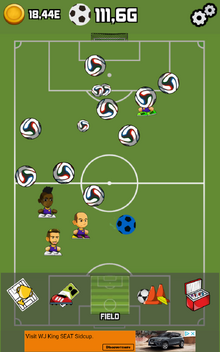 Community content is available under
CC-BY-SA
unless otherwise noted.